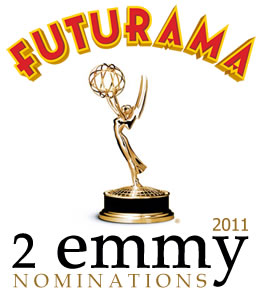 Great news people,
Futurama has been nominated for 2 Primetime Emmy awards 2011
for 2 episodes of Season 6A!
I would like to start with the
Best Animated Series nomination
for the episode
"6acv07 - The Late Philip J Fry"
. Here you go the group of nominees in this category:
The Cleveland Show - "Murray Christmas"
FOX
Robot Chicken: "Star Wars Episode III"
Cartoon Network
Futurama - "The Late Philip J. Fry"
Comedy Central
The Simpsons - "Angry Dad - The Movie"
FOX
South Park - "Crack Baby Athletic Association"
Comedy Central
This is quite great, since "The Late Philip J Fry" is quite a nice story and has a lot of heart. Is also the first Primetime Emmy nomination of Futurama since the series are back on TV as real half-hour episodes (the movies as episodes are not the best chopped up, I prefer those as movies).
The second and also great nomination is in the category of
Best Voice-over Performance
, and this time it is great to hear that
Maurice LaMarche
is the one nominated for his performance of
Lrrr and Orson Welles
in the episode
"6acv11 - Lrrreconcilable Ndndifferences"
. Here you go all the nominees:
Christopher Plummer as Narrator
Moguls & Movie Stars - The Birth Of Hollywoodd
Bob Bergen as Porky Pig
The Looney Tunes Show - Jailbird And Jailbunny
Seth Green as Batman/Cobra Commander/Judge/Light Cycle Driver/Newscaster/Robot Chicken/Nerd/Teenager/Venger
Robot Chicken - Catch Me If You Kangaroo Jack
Maurice LaMarche as Lrrr & Orson Welles
Futurama - Lrrreconcilable Ndndifferences
Dan Castellaneta as Barney Gumble/ Homer Simpson/ Krusty the Clown/ Louie
The Simpsons - Donnie Fatso
Brenda Strong as Mary-Alice Young
Desperate Housewives - Come On Over For Dinner
We knew from Moe himself way earlier that he was submitting his work of that episode to the Emmys, so it is great to see him nominated for the Best Voice-over Performance again after 13 years (his last Emmy nomination was in 1998 for his work on
Pinky and The Brain
).
Don't forget to cross your fingers or tentacles (or both),
the Primetime Creative Arts Emmy Awards 2011 will be announced on September 10, 2011
(59 days left) and
aired at a later date on the E! Network
.
Source:
Primetime Emmy Awards 2011
,
IMDb