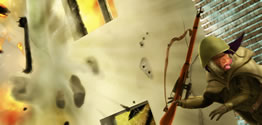 Hi folks. Is the time again when we are waiting all day long for a new Futurama episode, this time with "6acv21 - Yo Leela Leela". In the meantime, what about taking a break and enjoy some nice Futurama images created by some of the fanartist. This update begins with
Zed 85
and 4 of his latest Futurama arts. The first one is a great but sad portrait of Leela called "Lost". The other 3 are a series of images inspired by an original image by Kaspired called
Returning the DVD
ft. Leela. The versions that Zed created are great, the first one based in the original, but the next 2 are great situations of Leela in war in (featured) and after an explosion next to her. You have to check those images,
you'll not be dissapointed
.
Another artist today is
Vickram101
, with a fun crossover of Fry with the Green Power Ranger. I have to be honest, I didn't see this crossover coming. Other image, was created by
mej073
and features Leela mummified in tape.
The final artist of the day is
MissFuturama
with her latest 5 images. One fanart of a shippy Fry and Leela, a sexy Scruffy from the "Neutopia" episode, Lulabel.. a pole-dancing fembot. Two images feature an OC, Fry and Leela's daughter Alice. The first image is a sketch of Bender taking care of her, and the other (featured) is a portrait of this cute little girl.
Well, I've to go now, don't forget to tune in the new Futurama episode tonight at 10pm/9c only on Comedy Central!