Sweet Zombie Jesus! Futurama did it!
In the 2011 Creative Arts Emmy Awards ceremony, Futurama took home the 2 awards it was nominated for.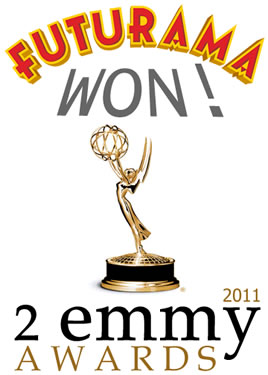 Outstanding Animated Program 2011
The Late Philip J. Fry
Comedy Central
Matt Groening, Executive Producer;
David X. Cohen, Executive Producer;
Ken Keeler, Executive Producer;
Dan Vebber, Co-Executive Producer;
Patric M. Verrone, Co-Executive Producer;
Josh Weinstein, Co-Executive Producer;
Eric Horsted, Co-Executive Producer;
Michael Rowe, Co-Executive Producer;
Lee Supercinski, Produced By;
Claudia Katz, Produced By;
Gregg Vanzo, Animation Executive Producer;
Lewis Morton, Written by;
Peter Avanzino, Supervising Director/Directed By;
Scott Vanzo, Director of Computer Graphics;
Ira Sherak, Assistant Director
I really want to congratulate all the Futurama producers, writers, directors, animators, voice cast that keep creating some great stories and work their (not so) shinny metal asses off to give us the fans some very special moments. Congratulations to Comedy Central because it believed in Futurama, and to the Futurama staff that has been active on Facebook and Twitter, giving us some news or their point of view about the series!
Outstanding Voice-Over Performance 2011
Maurice LaMarche
as
Lrrr & Orson Welles
Futurama - Lrrreconcilable Ndndifferences
Congrats to
Maurice LaMarche
that has been very active in the social networks, chating with the fans and being very open with everyone.
SOURCE:
Creative Arts Emmy Awards 2011:
Outstanding Animated Program
&
Outstanding Voice-Over Performance