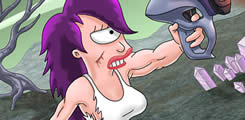 Hi people. The site is fully functional now, I removed some extra featured that added extra code and no really big benefits.
Today is fanart day.. and I want to start with a brand new artist around here. His name is
Ben Cain
and he recently sent me a couple of great Futurama images featuring every nerd's fantasy.. aka Leela. One art features her chillin' with her sunglass and a cigar (that he probably stole from Bender). The other is a nice action shot of Leela fighting with her clothes ripped, some bruises and a cool looking laser gun (featured today).
4 new fanarts were created by
mej073
featuring some kinda strong Amy and Leela situations, an 2 images of Leela cosplaying Cammy from Street Fighter.
Gulliver63
is also around with 19 images featuring many different situations. A lot of crossovers, from Daphne (Scooby Doo), Harry Potter + Morgan Proctor, Amazonians can't dunk, Amy Hulk, Galileo, Futurama vs Venture Bros. (2 images), and others. You'll also can see some interesting ideas like a Teenage Leela in a real High School background, Ultra Amy, and many other images that you'll see and enjoy.
I'm gonna watch some Futurama and then sleep.. bye!