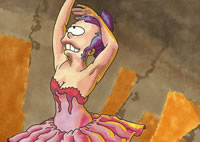 Hi people. It is time for more Futurama fanart, even if we are really exited about the new episodes airing this June, 20th (in just 50 days). Today I would like to start with a good artist around here, his name is
Kaspired (also Mike)
and I've added his more recent fanart. As usual, he has created some very interesting images, like Leela with Angus from the episode "Fry am the Eggman", Leela as a Purple Swan and other of Amy as a Black Swan (both reference to the movie of the same name), a sketch of Zoidberg being scared, the Professor telling the crew that mermaids don't exist.. with Umbriel in the back, a cute Amy portrait with backlight, and one of Amy multiplied in all her suits from BWBB movie with a single Leela! I almost forgot, there's also an Amy as Jeannie from "I dream of Jeannie".
I know I'm not being fluent adding the fanart, but right now, I just added 3 new fanarts by
Tastes-Like-Fry
, one featuring an up-scaled pixel image of her OC character Lucy, an image of Fry and Bender dancing, and a shippy image of Fry and Leela. I've also added a photo by
Alanquest
featuring himself with an amazing Robot Santa painted in a (I think he's) chimney.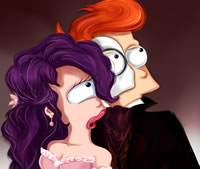 The last artist of the day is the talented
MissFuturama
with 10 images. 3 of them feature Anny (LeenaKill's OC).. one saying goodbye to Bender, other shocking little Alice with electricity and the last one is Anny as a teenager. There's also
Jennifer Morton's OC Jenny
with Fry. More of Alice: her dancing steps, a yikes one with Zapp, one with her mother Leela, and one watching a scary movie with Fry (and Leela lad about it). Twe last neat images feature an old Calculon, and a parody of the Phantom of the Opera with Fry and Leela.