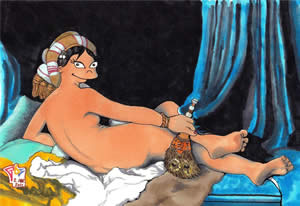 Hi again. Sorry for the late late update, I've been very active in the web 2.0 (also called social networks, you know... twitcher and similar). Today, even when I have a headache, I would like to add some fanart that has been around for a little while, and I'm going to start with
Gulliver63
. A fanart I didn't add earlier is the mix between Leela Jetson and Turanga Jane! Gould find many interesting Colossal women arts, many featuring Amy, and also Morgan Proctor. You'll also find some movie and comic covers featuring Leela, Amy and Morgan. Crossovers are also here, with 3 images of The Matrix where the agents are bureaucrats instead and Fry is Neo. Other crossover features the PE crew in Star Trek outfits, Chronicles of Leela (Riddick), Amy painted nude as a famous paint "La Grande Odalisque", Amy, & Kif + Fry & Leela kids, and some others you'll not want to miss.
Anichysaur64
created many images featuring mostly her original characters (OC) Felicia and Lucas, her version of human Bender, and some images of Yancy (Fry's brother) with Leela that make Fry jelous...
15 new images were added thanks to
Leena (LeenaKill)
, featuring her character Anny (OC daughter of Bender and Amy) that show us different layers of being part human but also part robot. You'll see her as a kid and as a teenager in many situations, even with Alice Fry (created by MissFuturama) and showing us that it is not easy to be both things. Other images he added feature tribute drawings of adult Alice with Leela, Alice as a night hunter with Bender, the Futurama characters as the Avengers, and some others.
Don't forget to follow us in the main social networks mentioned in the top of the page for the countdown to the new Futurama episodes.