July 4th, 2012 at 10pm/9c was the premiere of a new Futurama episode... a coincidence with the Fireworks everywhere in the USA. This is what I've to say.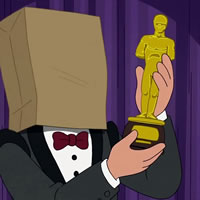 7acv04 - The Thief of Baghead
I liked this episode, but in my opinion is the lowest one (and that's about 7/10 for me). It had the Futurama consistency, but had many easy gags. I really liked the aquarium crazy idea of water held by invisible fields, and that you can just stick your hand inside (and you know the results thanks to Fry)... in fact,
about time we see Fry learning something new about the Future!
It was also fun to have a 7 Oscar winner actor (2 for best actress) that always used a paper bag on his head. Bender fits nicely in the Paparazzo world, being as annoying as those guys (sorry, but that's true).
The whole extracting of the vital life (aka soul) by seeing Langdon Cobb's true face is kinda believable but it is kinda forced, and that he is a being that has a mushroom dog to keep his ego, is more forced in my opinion. The contest of best acting is great, giving Calculon more minutes in the show, and truly dying, just to finally loose against the best actor ever.
The end is kinda nice but since is has some fantasy with the "souls" going back to the body skin of the characters, I can say is very sci-fi... I dunno, is how I see it. Overall I enjoyed the episode, but going with the rhythm that Futurama had in the previous 3 episodes, this one gets a little short.
This episode was written by
Dan Vebber
. He has written many nice episodes, including "The Birdbot of Ice-Catraz",
"Obsoletely Fabulous"
, "A Clockwork Origin", "Cold Warriors".
1.06 million
viewers saw this episode, I don't think because the fans didn't like the episode, but because of the Fireworks... 4th of July and all that.