Sorry, I was supposed to add this review before the new episode this Wednesday, but I didn't. So, here you go, writing this while the new episode ended, but I'll say what I've to said about that new one soon.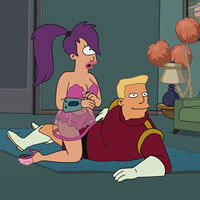 7acv05 - Zapp Dingbat
I like how this episode developed, since now Mutants can go outside the sewer (but they stay there haha) since the divorce of Munda and Morris Turanga, Leela's parents.
Each character was expanded. Munda finally used her knowledge in alien languages, that was only seen used when Leela was "abandoned" in the Cookieville Minimum-Security Orphanarium, and ends up with Zapp. I've to say that Zapp was a little off since he is always looking for hot alien babes, but hey, Zapp is Zapp.
As for Morris, he decided to be the sewer surfer he was before he married Munda, and surfed all the big sewer waves in the world, and he ended up chilling out with no worries at all.
Leela meanwhile tried to stop Zapp and Munda relationship by talking to her mom, and later trying to seduce Zapp with no success. Only when Munda finally realizes that he is a scumbag captain (like Leela realized in "Love Labor's Lost in Cyberspace") she leaves him. The shark aliens are featured at the beginning for a reason, so Morris can surf the Nimbus between the energy waves the aliens shooted (Zapp made them the aliens mad as usual).
I really liked the jokes, like the Mos Def Cantina scene, the Wave surfing/Leela spying Munda scene, and many jokes that were well divided in the entire story.
This episode was written by
Eric Rogers
(aka
@ERogTweets2Much
). He has written some neat episodes, including "Anthology of Interest I" (Terror at 500 Feet) and "The Silence of the Clamps". He also has written many of the Futurama Comics!
1.112 million
viewers saw the episode, up from previous episode in July 4th, but I expected more people watching it. I guess is because
my thoughts on the previous episode
somehow.
Source:
TV by the Numbers