Well, here you go my thoughts and point of view (and perhaps review) of last week Futurama episode, previous to the premiere of a new one tonight at 10pm/9c on Comedy Central.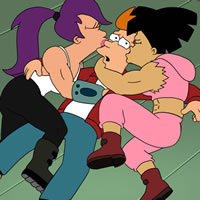 7acv06 - The Butterjunk Effect
Ok. This episode was very linear with not peak moments, but it was not that bad. It was fun to see Fry an Bender making "cats fighting" like sounds when Leela and Amy supposedly fight each other.
They learn about the Butterfly Derby while making a moon rock delivery to the moon, and it was nice to see some folks from the "The Series had Landed" in the moon again, specially the Moon farmer. It was also interesting to see Leela and Amy team up.
When Leela and Amy enter the Butterfly Derby sport, they get addicted to Nectar (a natural drug) to win matches (since they were always loosing).. some other reviews say that it resembles a Simpsons episode of Marge that does the same, but I've not seen that episode.
Later they run out of the drug, go to Kif's home planet to get more, and Fry gets sprayed by a giant male butterfly, and that pheromones make him irresistible to Leela and Amy... but that story ends when the girls decided to give up the Nectar.
Finally they fight and where about to loose the final Butterfly Derby match, and Fry comes out transformed to a male Butterfly (kinda hideous and lame haha) that attracts the competitors of Amy and Leela, and the 3 had live sex on the Derby... Later on inside the Fry Butterfly lies the real Fry, to solve the continuity problem for upcoming episodes.
Ok, so the final was not that great in my opinion, it was predictable that Fry would save the day. It had funny moments, when Leela and Amy kiss Fry in front of Kif, and both the guys get verbally abused by the girls on Nectar, or the trainer that gives them Nectar in the first pace. I do feel like this was a very rushed episode, that left the stories of Amy neglecting Kif and kissing Fry and the relationship of Fry and Leela, both in the air.
This episode was written by
Michael Rowe
. He has written "Bend Her", "Proposition Infinity", "The Futurama Holiday Spectacular" and "Fry Am the Egg Man".
1.19 million
viewers saw the episode, up from previous episode in July 11th. Still, the agreement between DirecTV and Viacom was reached after this episode aired, so I think Futurama ratings will go up today with the new episode and more people able to watch it.
Source:
TV by the Numbers