News
by JavieR / December 1, 2013 / 10:45
THE GIVEAWAY HAS ENDED ON DIC. 9, 2013 @ 23H59 GMT -5
Stay tuned for the winners...


Hi meatbags. Time to get the chance to win a free Futurama T-Shirt, thanks to the guys from
T-Shirts.com
, but
only if you live in the USA
(thay can not ship the giveaway anywhere else). You can
check out the Futurama t-shirts
they have... but here you go the important stuff:
What do i do to enter the giveaway?
Simple.
Follow @slurmed
on twitter &
RETWEET this tweet
:
Other ways to enter the giveaway...
You can also
LIKE & SHARE this Facebook post
to enter another time and get more chances to win! (If you don't share the post, you're not in)
If you're at
Google+
, you can also get one more chance to win by
SHARING
the g+ post:
In case you win, I'll need to contact you, so be sure to check your twitter or facebook account for the winners.
In case you don't answer in 24 hours, I'll pick someone else.
Good luck!
by JavieR / November 15, 2013 / 00:25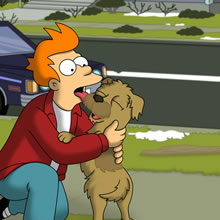 After more than a month, I've time to update TFP. I've been online with the social networks, but not as active as I hoped for. This time, a regular update with Futurama fanart from the fans and by the fans. I hope you like it... I always say that I'll update more often, but life has not a lot of time for me to update the site as before.. but that doesn't mean I'll quit doing it... no sir!
I'm here with some neat fanart by
The-Fighting-Mongooses
. A total of 11 new images, have a lot of neat stuff, like Leela with a Machete!, Leela in Fry's clothes, an intersting sci-fi poster, Bender porn drive (100,000 TB), Bender and Leela, Little Bender and little Amy, Fry and Seymour and som others that you'll like to see, I promise you!
I've added also 3 images by
Tastes-Like-Fry
: Fry's head in a honeycomb haha, Guenter the Monkey, + more (developing...)
I've also a new image by
Freako
that features a sexy Leela giving Bender a "decapitease". Sorry to
Vickram101
for not uploading his image supporting Futurama.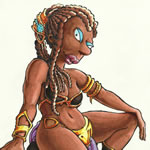 The last artist of the day will be
Kaspired
. 13 new arts are here, with crazy and neat ideas.. or both haha! You'll find a chalk drawing of Amy, Fry and Leela blending with a wall, a squid Leela, a sexy photo of Leela taken (stolen) by Bender, a parabox scene with Universe 1 Amy and Universe A Leela, a B&W Leela looking for work (after the last cancellation), a sexy LaBarbara as Princess Leia in Star Wars' "The Return of the Jedi", a PE veil/spaceship and some other that you should see.
I've to say goodbye now, I'm sleepy and I've work tomorrow, in the real world... sigh. Enjoy!
by JavieR / October 1, 2013 / 00:24
Check that out! The Futurama Volume 8
containing the last 13 episode for a while
(hopefully) is now out for
preorder at Amazon
:
The many features (to be confirmed) will include:
Full-length Commentary on All 13 Episodes
Audio Commentary on All Episodes
Precious Trimmings: A Compendium of Deleted Scenes
Futurama University
Inside Futurama: The Writers' Room of Tomorrow
Video

Widescreen / Widescreen (Blu-Ray: 1080p video)

Audio

English (5.1 Dolby Digital) / English (Blu-Ray: DTS-HD Master Audio 5.1 soundtrack)
Spanish (Dolby Surround) [NOT OFFICIAL]

Subtitles

English
Spanish, French [NOT OFFICIAL]
Source:
TVShowsOnDVD.com
by JavieR / August 29, 2013 / 22:55
Hello meatbags. Bad news everyone! Futurama only has one more episode and then it is over once again... but I've some Good news everyone! The people from
TV Store Online contacted TFP to start a Giveaway
.
This giveaway will give two randomly chosen Futurama fans (valid worldwide) a Futurama T-Shirt like the ones on sale on
TVStoreOnline.com
. All you've to do to participate, is:
Please read the steps listed and cross your fingers and tentacles. Who knows, perhaps you'll get a free meatbag T-Shirt! Spread the word... or not...
by JavieR / August 15, 2013 / 22:51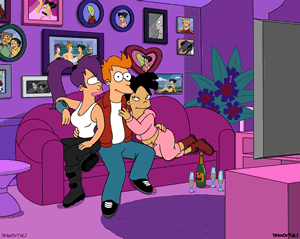 Hello people. Time for a new update in a long time over here, exactly 1 month :(. I've been around if you're following
twitter @slurmed
or
facebook.com/slurmed
.
I'm gonna start with 30 new images, yes, great images by a great fan and an artist., this guy is named
!iMmOrTaL!
and we have some neat stuff. Fanart like Bender and Amy in the shower and other 2 images featuring the couple from episode "Proposition Infinity". 3 Giant Amy pics inspired in the Nude Beach Planet from the "Bender's Big Score" movie and other nude (and cleverly censored) images from the planet and from Freedom Day! Another couple, Kif and Leela, some other sexy images... even Bender with his son from episode "The Bots and the Bees" and more (4) Planet Express employee photos!
I've also added 5 new images by
EsmeraldHeart
featuring some OC characters with Fry or Zoidberg too.
Another artist with many images is
SuperPrincessPink
, and she has created a lot of new Futurama fanart, exactly 9 images featuring some very colorful and strange situations, including Fry eating a
sandwich.
A fourth person is around here also with more fanart for you. I'm talking about
Leena
, and 3 of her images featuring her OC character, the daughter of Amy and Bender, Anny.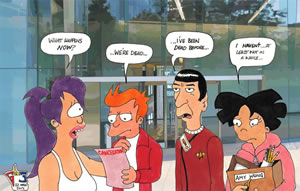 Finally, 23 new arts by
Gulliver63
. A lot of work dedicated on some interesting parodies like Zapp Brannigan and the Planet of the Women, Monster's University, Under the Dome, Mortal Kombat, I Dream of "Legal" Jeannie, Captain Morgan Proctor and more. Some other images feature Amy air surfing at night, Marmoset Amy, Amazonians funny images, inverted scenes of the guys as girls and vice-versa in situations like "I had snu-snu" and over Yivo in "Into the Wild Green Yonder". Check them out you'll enjoy them!
Enjoy the last episodes in a while, I really like them and please don't stop watching the re-runs and buying the glorious Futurama merchandise to support the series!
by JavieR / July 15, 2013 / 23:58
Hi. The
San Diego Comic-Con 2013
starts this Thursday, and Futurama will be there in some stands and events for your enjoyment. Here you go the more important Futurama related events:
THURSDAY, JULY 18
[ 4:45pm - Room 6BCF ]
I Know That Voice: The Documentary: Special Preview and Q&A
John DiMaggio (Bender) brings the cast and crew of IKTV together for an exclusive sneak peek at the most anticipated film about voice-over (in animation and video games) ever made! The panel includes also another Futurama actor, Billy West.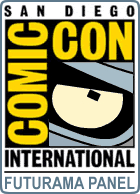 SATURDAY, JULY 20
[ 12:00pm - Ballroom 20 ]

Futurama - We're dooooooooomed! panel
Voice cast: Billy West, John DiMaggio, Katey Sagal, Maurice LaMarche, Tress MacNeille, David Herman, Phil LaMarr, and Lauren Tom will
read live scenes from the last Futurama episode
(for now).
Attending also executive producer David X. Cohen, creator Matt Groening, and a
cartooning showdown to the death!
(again hahaha!)
Now we go to the Futurama goodies that you can get only there (sadly for me, I can't get any of those, I'm very far away):
ACME ARCHIVES LTD.
2 new Futurama posters (limited to 99 unit each) will be visible (
and I think available
) at the Acme Archives Ltd. booth #5629, both designs by
Dave Perillo
:
TOYNAMI
Toynami finally decided to sell the Desructor with exclusive Gender Bender figure for $69,99, get it at booth #3229. Bad news, if you're not at the SDCC, you get no Destructor apparently:
KIDROBOT
You wanted a new 6 inches Futurama figure? Why not Zoidberg? grab it now for $50 at the
Comedy Central shop
.
Exclusive from the San Diego Comic-Con Universe A Bue + Glow in the dark Dr. John Zoidberg
!!!
BONGO COMICS
Step into booth #2519 and check out 2 neat Futurama exclusives, a Leela/Amy Lobrau Calendar Pin-up and also an exclusive, Futurama Comics, 104-page, survey of stories called "Futurama Comics to Infinity! TPB"
FOX HOME ENTERTAINMENT
They will be giving a neat calendar away at their booth during the show, a neat one I must say!
Lucky dogs that can go to the San Diego Comic-Con, take photos and mention
@slurmed
on twitter to see what Futurama amazing stuff you see so the rest of us can see it too!
Source:
San Diego Comic-Con 2013
,
Toynami
,
ACME Archives
,
MTV Geek
,
Kidrobot
,
@morrowchris
PREVIOUS NEWS
NEWS ARCHIVE
from 2000 to 2013 » Enter the archive
Support TFP: